Data sources and widgets for mirr.OS one
Even more freedom of design
Widgets and data sources are decoupled from each other in mirr.OS one. This allows you to use your Internet accounts, API keys and keys not only multiple times, but also in different views. New widgets are automatically available and always up to date.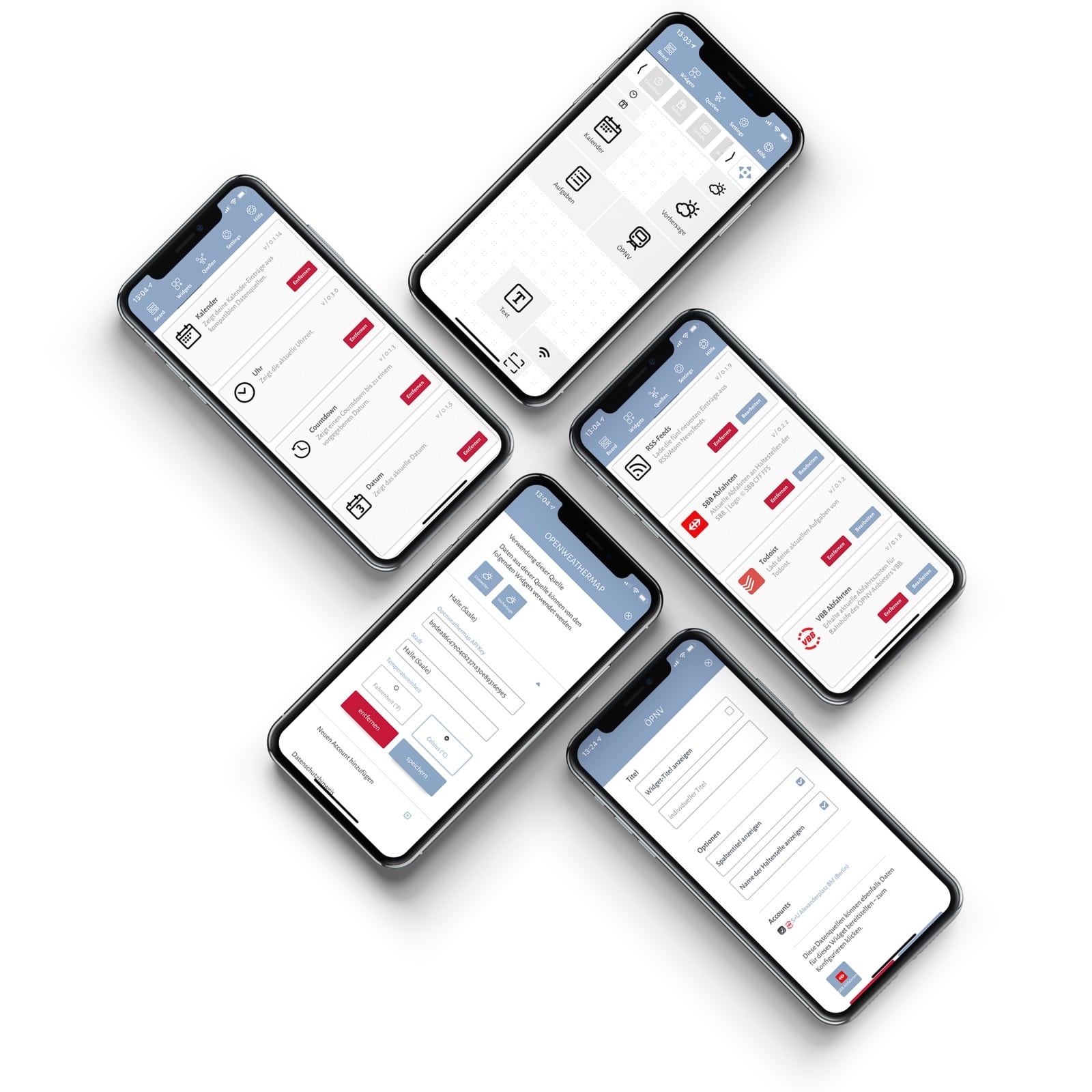 Overview of widgets and data sources
Widgets and data sources are automatically available in mirr.OS one and always up-to-date.
Calender
Shows your calendar entries from compatible data sources.
Clock
Displays the current time. If desired, also from different time zones.
Date
Shows the current date.
Gas stations

Get the current fuel prices of the gas stations in your area.
Forecast
Shows a five-day forecast of the weather.
Live weather
Shows the current weather conditions for the next three hours.
Countdown
Shows a countdown to a date you set.
Sayings
Displays quotes or sayings on your mirror at timed intervals.
IP-Camera
Shows a live video stream of your IP camera.
Network
Shows your current network connection: WLAN name, signal strength and IP address.
Images
Upload one or more images to display on your mirror.
Public transport

Shows you the current departure times of a public transport station of your choice.
QR-Code
Generates a QR code on your mirror for a URL, phone number or any text.
Styling
Add visual separators and design the display on your mirror.
Text
Display custom text (including HTML) on your mirror.
Ticker
Displays the headlines of the defined news feeds.
Tasks
Displays your tasks from services like todoist or wunderlist.
Videoplayer
Run videos on your mirror. Supports YouTube links.
Desired function not yet included?
We support commercial users in digitization projects (e.g. in the area of digital signage) and develop individual widgets with customized functionality on behalf of our customers. Contact us!
Contact
For commercial users we also program widgets on demand.