Digital Signage unleashed
mirr.OS is perfect for digital signage applications because it is secure, intuitive, largely system independent, stable and fast. With mirr.OS you can control single or multiple displays simultaneously via a central interface. If you wish, even outside your local network.
Mirr.OS offers you a stable, flexible solution if you want to use your displays in 24/7 continuous operation. With our software, even commercially available monitors and TVs become dynamic info terminals or advertising pillars. Whether advertising messages or in use as signage and wayfinding system: with mirr.OS you use an effective and affordable solution to control already existing screens.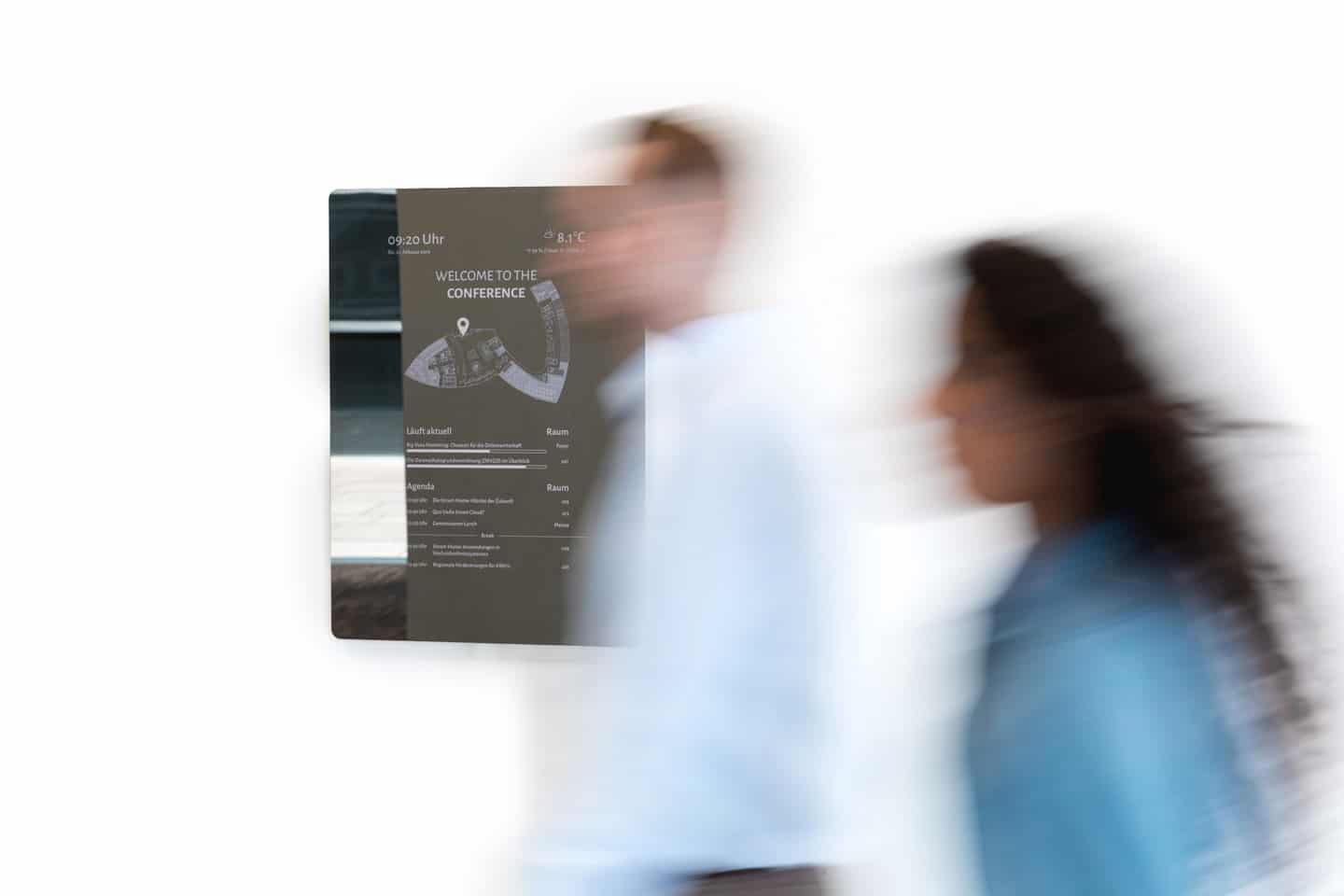 Widgets that help to exploit the full potential
Widgets are small, slim info blocks in mirr.OS. With them you individualize the presentation on your displays with the content that is essential.




Nobody understands your workflows as well as you do . And nobody knows mirr.OS as well as we do. We will be happy to develop your perfect widget together with you.
Great technology.
Also for SMEs
User-friendly and intelligent digital signage applications are key technologies for success in the future. Mirr.OS supports you in systematically outputting information of all kinds where it is useful and necessary. From simple text and images to complex data structures or production metrics.
Do you have questions about your digital signage project?
You need an individual solution? We are happy to advise you on the implementation of your digital signage strategy as well as on the setup and installation of multiple advertising pillars or info screens in buildings. Alternatively, they simply download our software and test it extensively. All you need for testing is a small computer (Raspberry Pi 3B) and a display.
mirr.OS one
Can I use a TV for digital signage?
Yes, you can! As long as the TV has an HDMI input, you can also connect the single-board computer to it. mirr.OS is optimized for a FullHD resolution (1920×1080 pixels). However, you can also use a 4K TV - the display of the content will adapt automatically.
What are the advantages of digital signage systems?
With mirr.OS you have the possibility to quickly and inexpensively develop simple screens and TVs into individual advertising boards that update themselves in real time. Our intuitive user interface allows you to adapt the appearance to the respective location environment at any time and from anywhere - so you reach people at the right time in the right context.
How do I get the content onto the advertising steles?
mirr.OS has an easy-to-use interface, which gives you as a user full control over the design and appearance of the screens. Images or backgrounds can be uploaded easily. Dynamic data, such as calendar entries or news, are automatically retrieved by the operating system - the information on the billboards thus updates itself automatically.
Originally, mirr.OS was designed specifically for glancr. But we quickly learned that it's about much more. It's about displaying exactly the information that is important to you – as simply as possible. And what display it is, or whether there is still a mirror in front of the display, is irrelevant.
With and without mirrors – large and small – indoors and outdoors: as an intelligent dashboard, mirr.OS provides benefits wherever information needs to be communicated in a targeted manner.
control one or more displays from one backend
stream multimedia content like videos, images, galleries, texts and more
central, automatic maintenance
Create modular individual infoscreens, simply by drag'n drop
Dynamic adjustment of the info screens in real time