Smart Home is now as individual as you are
mirr.OS one is a further developed idea of the individual smart home. The completely redesigned system now adapts even better to your needs. mirr.OS one comes with its own WebApp and uses the new security benefits of Ubuntu Core. On the new board with grid you can arrange your widgets the way you want and as often as you like.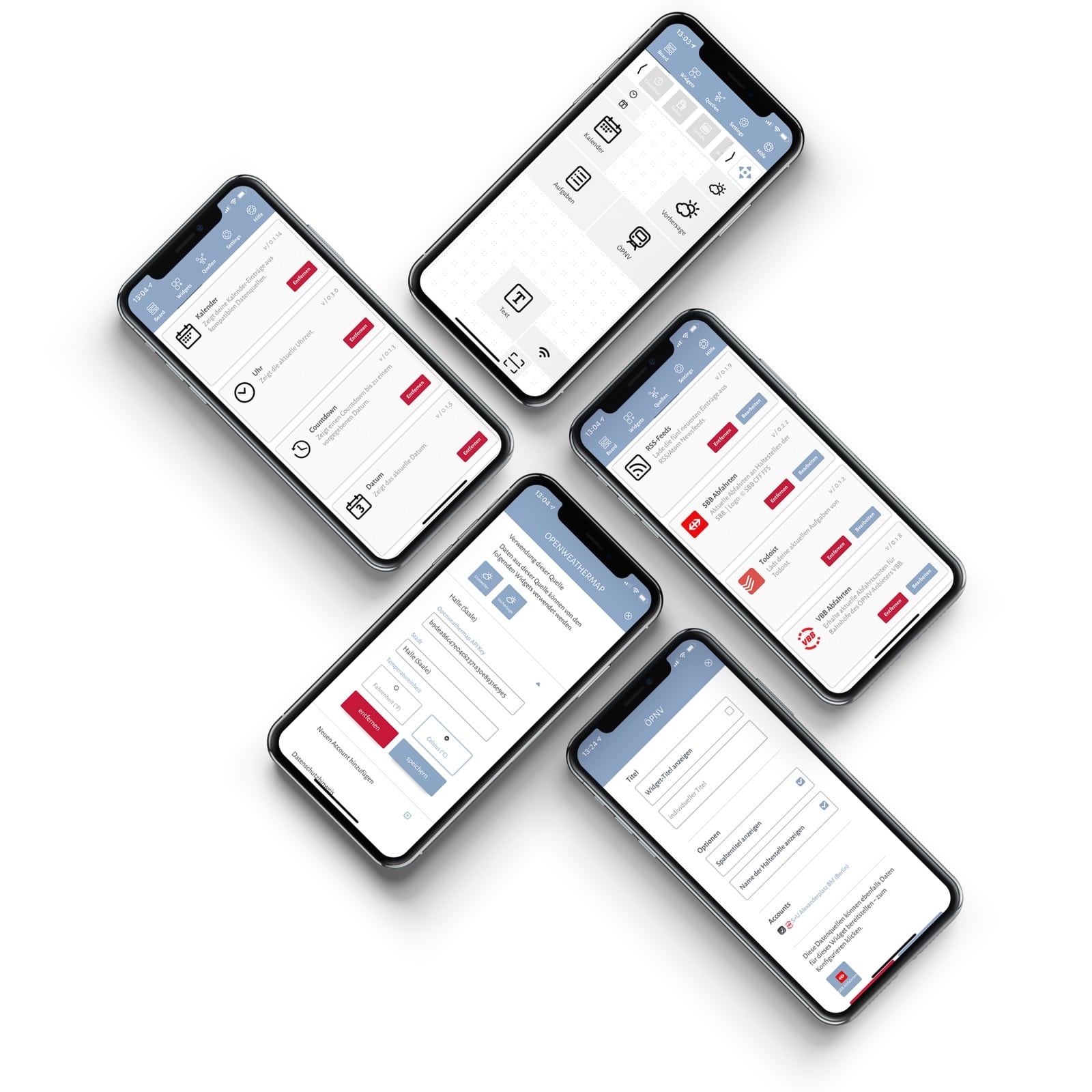 With the new WebApp for mirr.OS one you place your favorite widgets where you want and as often as you want.
More and more IoT enthusiasts are using mirr.OS in their digital home. And where there are many users, there are also many special requests. The new board offers you exactly the interface you need for this. That's why you can now set up and operate your Smart Mirror via the web app developed for this purpose.
Drag and drop your favorite widgets onto the board and arrange them on the grid grid as you wish. mirr.OS one also supports multimodularity, which means you can use the same widget with different data streams and multiple times.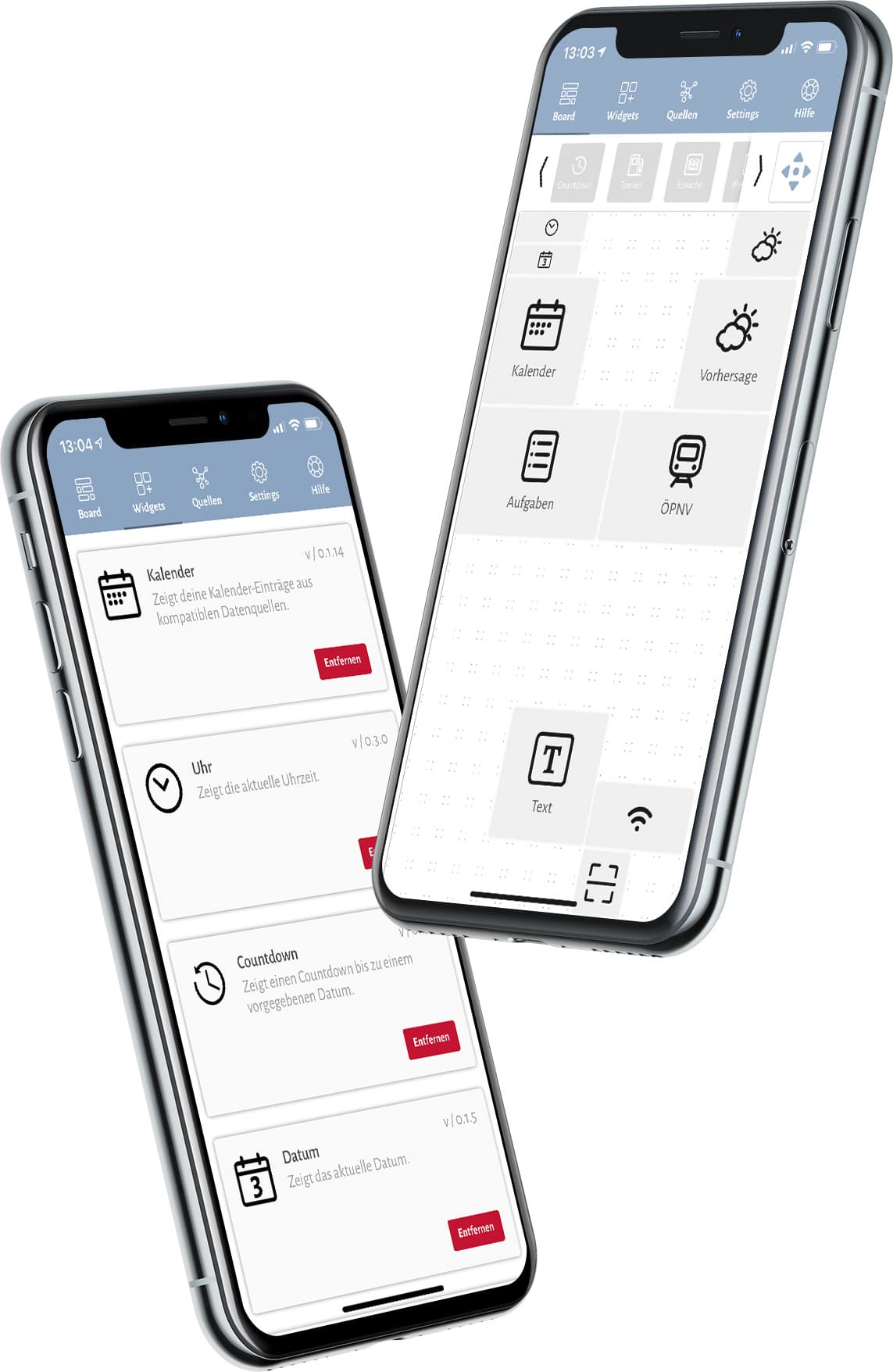 How to use your favorite widgets on your Smart Mirror
Now all widgets are available directly in the WebApp and no longer need to be loaded individually on your Smart Mirror. We've also decoupled the view and the origin of the data, so you only need one widget for all ToDo services, for example. In addition, it is now easier for us to integrate new providers.
In the data sources view, add your Internet accounts, API keys, and keys. Use the widget overview to install new widgets or uninstall them if you don't need them anymore. On the board you can now place your widgets, resize them and activate the account you want from the data sources.
mirr.OS one is the only smart mirror software that supports as many boards as you want by default. So you can create different views for you and your family members.
Professional users can use Infinity Boards to play out individual views, either at intervals or based on rules. This allows small store operators, for example, to display their advertising information and service notes in parallel. Or as a digital signage solution, wayfinding systems can be displayed and visitor interactions can be initiated.
Each board can be uniquely designed, including individual background image.
mirr.OS has been developed from scratch and is now based on Ubuntu Core. This is the first time we used a core specifically designed for IoT applications and you benefit from significantly increased security for all your data, APIs and passwords.
We have rethought mirr.OS one and completely redesigned the information architecture. By separating widgets and data sources, you can now use widgets multiple times, arrange them as you like and feed them with different data.
Widgets as often as you want
mirr.OS one is designed to be multimodular. That means you can use the same widget as often as you want. It is even possible to make the same widgets look different.
multimodular structure
use widgets multiple times
different design options
Summarize what belongs together
The new data architecture combines data sources and widgets. This makes it possible for the first time to use the same account multiple times.
clear selection of widgets
one account for many widgets
Widgets can read data from different accounts
With our background in communications, we put a lot of effort into the design and test its usefulness in daily use. mirr.OS one comes with a WebApp, a redesigned user interface and a new type of board. With this you can customize the design of your Smart Mirro from your smartphone.
Setup and operation via WebApp
We have added a web app to mirr.OS one. You can easily set up and operate your smart mirror via smartphone. The WebApp is clean, fast and supports you if you have problems. The WebApp works independent of device and operating system.
WebApp to operate your Smart Mirror
device-independent operation via smartphone, laptop or tablet
clear user guidance and intuitive operability
Create your perfect dashboard
Get creative and design your own personal display. With widgets in different sizes, formats and free positions you can decide yourself how your Smart Mirror looks like.
Widgets in different sizes and formats
free positioning
customize your mirror
Optimized software design 
After two years of user feedback, we know what's important to you. That's why we've optimized the display on the mirror to show complex data even more easily. In addition, the new widgets are now enriched with small valuable additional information. For example, the calendar now also shows you the location of your appointment.
intuitive operating concept
intelligent data preparation
just looks good
In our personal opinion, the previous Linux base did not fully meet current and future IoT requirements. In particular, the updateability of your installation is now better ensured. 
mirr.OS one relies on the Ubuntu Core software base developed for IoT devices. With 10 years of security updates and a lean software design, we offer little attack surface and provide more security.
designed for IoT applications
10 years security updates
sleek software design
more security
So that your data remains yours
We have no interest in your data. Therefore mirr.OS one is designed in such a way that no data is passed on to us unasked and unwanted. Only if you send us bug reports, we receive your mail address and the depersonalized error logs of your system.
we do not collect personal data
mirr.OS one is a local installation on your device and not in a cloud
We believe in faster development and better systems through open source* software. Therefore, you can view, check and improve the entire source code online.
Open Source
Community development
Viewable source code
* mirr.OS one is and will remain free of charge for private users. However, we ask for your understanding that we put a lot of work, knowledge and money into the project and therefore have to make license agreements with commercial users. Open source does not automatically mean free for all.
mirr.OS one basically runs on any IoT board that supports Ubuntu Core. The image linked above was developed for the Raspberry Pi 2, 3B & Pi 3B+. For boards like Intel NUC, KVM, Intel Joule, Qualcomm Dragonboard 410c, Samsung Artik 5 or 10, UP2 IoT Grove, Intel IEI TANK 870 executable images can be created on request. The Raspberry Pi 4 is expected to be supported by Ubuntu Core from Q2 2020.
Explicitly not supported by Ubuntu Core: Rasberry Pi Zero and Rasperry Pi Zero W.
We are continuously developing mirr.OS one. Click here for the detailed changelog.